Rob Paterson - a year in golf!
After the disastrous start to 2020 with the golfing calendar having been decimated, I was extremely excited to get under way in my first professional event at Dumfries and Galloway golf club. There was a considerable amount of rust to shake off having not played competitively for almost a year, and it showed! Back to the practice area to work on some things before I teed it up again in the Scottish PGA Championship at Deer Park. After an equally shaky first few holes I thought here we go again, but then I holed a 40-foot putt on the 4th hole for birdie and it settled me down and I began to play better, shooting 72 in the first round followed by rounds of 74, 72 and 75 to eventually finish in a tie for 31st place to pick up my first pay cheque as a professional.
Next up was the Scottish Young Professionals championship at Haddington Golf Club. A venue I had played many times growing up here and I was looking forward to it. Unfortunately, my golf game deserted me in the second round, and I finished outside of the prizes. Not to worry though as the week after was the Sandy Pipey Young Masters held at Royal Dornoch, one of the finest links in the UK it was an absolute delight to play there, especially as the weather was kind with hardly a breath of wind and the greens almost perfect it was a golfer's paradise! I played very solidly and shot rounds of 69 and 71 to finish 4th, considering my putter was stone cold I was pleased with the result.
The last event of the 2020 order of merit was the Northern Open held at Spey Valley Golf Course in Aviemore. Another excellent place to play! After a mixed bag first round of 76, I had my sights set on getting into the money after the second round. I started well in the second round and was 2 under par after 10 holes before rain stopped play and with limited daylight the competition was concluded with scores after 1 round.
Over the winter I am playing in the East of Scotland Alliance golf events and have begun the season well and currently sit 6th in the Order of Merit. There is also a PGA assistants winter series with the first event at Arbroath Golf Club and the second at Largs Golf Club with a couple more events to be announced for the start of next year.
Overall I am pleased with my efforts this year and will look to build upon it for next year.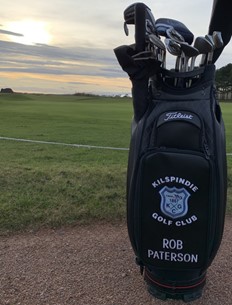 Rob Paterson
Assistant Professional